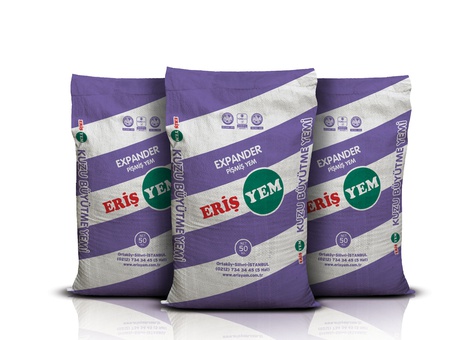 The Lamb Growing Feed
It must be used on the 45th day of the lambs until the 90th day.
When the live weight reaches 15-18 kg at the end of the absorption periods of the lambs, it is mixed with the Eriş Lamb Starter Feed for 3-4 days and is freely placed in front of the lambs. In this period, lambs are given 300gr / day with very good quality grassy or leafy rootstock. It extends the fattening period. The lambs are provided with free-cooked Eriş Lamb Growing Feed and 300gr / day roughage until they reach 30-32kg live weight. When the live weights of the lambs reach 24-26kg, the lambs that cannot grow rapidly will be separated from the herd and the fattening period will be shortened by making them more comfortable. In lamb feeding, such as silage, liquid roughage is not recommended. Roughage is not recommended for the fast lamb feeding.
Stalls of the mother lamb and baby lamb should be clean and draft-free. There must be enough space. The live weight and duration must be determined at the end of the fattening. Enough clean water should be provided. WEIGHT: Net 50 kg.